ARE YOU FUTURE-PROOFED?
Changes driven by COVID-19, market volatility, new regulations and technology, will make this the "Decade of Disruption". As an Advisor Development Organization, we are your managed practice transformation specialists.
Let's Level Up Together in 2023!
>> SCHEDULE YOUR DISCOVERY CALL
PROVEN RETIREMENT RISK, LEGACY AND WEALTH MANAGEMENT SOLUTIONS
Today, InsurMark provides annuity, life, and wealth advisors the solutions and technology to protect their clients' retirement while managing market volatility, longevity, and other retirement risks. Legacy planning and wealth transfer are additional areas where our team brings expertise and powerful solutions.
There's lingering cynicism among investors who still bear financial and emotional scars from the Market Crash of 2008 – they're extremely averse to market exposure. Low yield more conservative investments give them few attractive alternatives. Innovation is needed.
DR. ROBERT SHILLER
INVESTMENT CHARACTERISTICS OF FIAs
BEST-OF-THE-BEST CARRIERS, PRODUCTS & STRATEGISTS
Our star-laden exchange of elite carriers, products and strategists represent the industry's most innovative solutions. They are truly a cut above.
We are leading members of the most exclusive limited distribution networks in the marketplace.
That gives you access to an exclusive best-of-the-best menu.
AIG
Allianz
Americo
Athene
Brighthouse
FGL
Global
Atlantic
Lincoln
Minnesota Mutual
Mutual Trust
Nationwide
North American
OneAmerica
Prudential Transamerica
Barclays
Blackrock
JP Morgan
NYSE
PIMCO
Shiller
Wisdom Tree
Zebra
No fee/low fee options
Daily valuation
Guaranteed income
Drawdown protection
Unlimited upside
Indexed accumulation
Increasing income
Asset-based LTC
Premium financing
PROVEN MARKETING SOLUTIONS
Our complete digital and social media marketing solution takes just 3 1⁄2 hours a month and costs less than many
of you are spending on radio, TV, or buying leads.
Rock Star status is within your reach.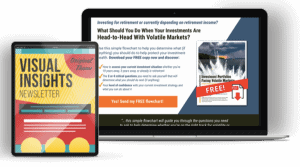 Catalyst is our awarding winning digital marketing engine that delivers personalized campaigns that generate referrals and attract ideal prospects. Campaigns are personalized and include email, social media and digital ads. Easily boost the reach of your campaigns with our integrated Facebook.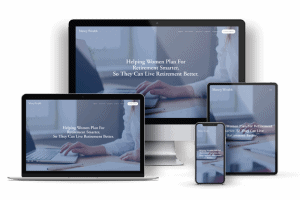 You never get a second chance to make a first impression. With  MyWebsite you can add SEO to put yourself in position to be found when consumers are searching for financial assistance. Plus, it connects to Catalyst so your visitors can be automatically added to targeted campaigns.
Podcasting is your secret weapon. We use your words and your voice to create authenticity. We offer a turnkey, outsourced solution that creates social proof Podcasting is key to building new client relationships.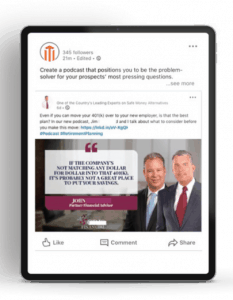 We target LinkedIn because that's where the money is. Our micro-influencer program strategically grows a listening audience of ideal prospects in your community. Integrate your LinkedIn campaign contacts into Catalyst.
21ST CENTURY RETIREMENT INCOME BUSINESS
Connect, plan and execute with the right person at the right time for your share of $3.0 trillion.
A generation of boomers are retiring. The important decisions they make about retirement are compounded by the growing wealth management, legacy planning, and longevity risks they face. InsurMark has the proven sales and marketing resources
for you to…